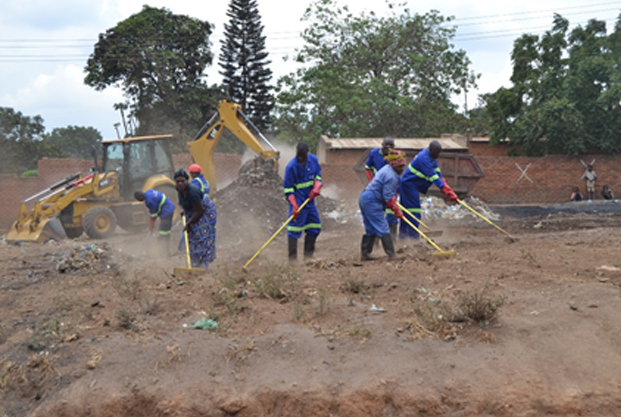 Ministry of Health commends Lilongwe City Council for clean-up exercise
The Ministry of Health and Population has commended the clean-up exercise which is being carried out by the Lilongwe City Council (LCC) in the markets and streets around Lilongwe city. LCC embarked on a clean-up campaign from October 24, 2018 scheduled to run until November 17, 2018 targeting to clean public places including; markets and streets within the city of Lilongwe. Principal Secretary in the Ministry of Health and Population, Dan Namarika said in an interview that the clean-up exercise has come in right time as we are approaching rainy season where disease outbreaks are rampant "As the ministry we are appreciating the clean-up initiative which Lilongwe City Council has embarked in the city of Lilongwe, this will help to reduce the outbreak of diseases such as cholera and typhoid which comes due to lack of sanitation mainly in rainy season and is difficult to manage especially in the cities," said Namarika. He added that his ministry has embarked on working together with the councils in promoting good sanitation in the country, and he said that recently they visited Zomba City Council where they discussed issues concerning endorsement of good sanitation in the cities of the country.
According to Namarika, councils have the power to promote good sanitation in the country saying that they have the authority to mobilize people including; politicians, Civil Society Organizations and locals to come together and embark on cleaning their cities. He also said that, his ministry is setting up to be rewarding city councils that are doing well in promoting good sanitation in their cities. "As the ministry we are planning to be recognizing the councils that are doing well in promoting sanitation in markets and streets around their cities as one way of appreciating their efforts," he revealed.
Deputy Director of Health for Cleaning Services under Lilongwe City Council, Catherine Kunje said that, her council has managed to clean more than 10 markets which include; Phwetekere, Biwi, Ngwenya, Lumbadzi and Majiga markets. The motive for LCC to embark on cleaning exercise is to keep the city of Lilongwe clean and disease free towards the rainy season, the council conducts the cleaning campaign annually.