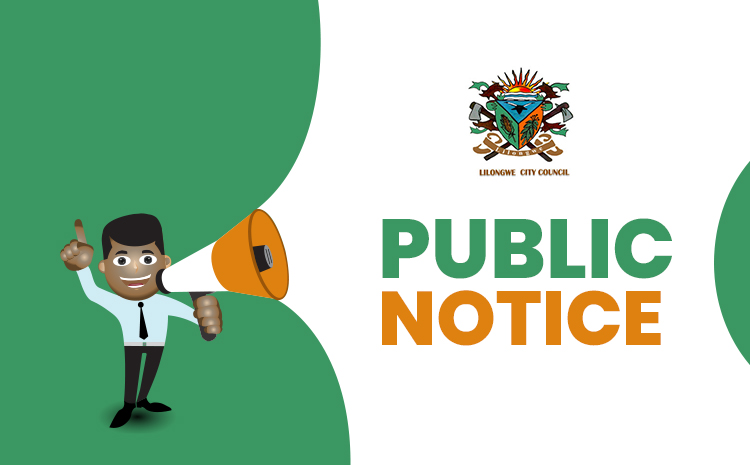 Request For Quotation, Supply and Delivery of Covid-19 Cloth masks
Procurement Reference Number:LCC/IPDC/169/02/21/CLTH MSKS
Date of Issue: 08th FEBRUARY 2021
Malawi is experiencing widespread community transmission in this second wave of COVID- 19. All districts in Malawi currently have confirmed COVID-19 cases and the majority (90% ) of confirmed cases have no symptoms but are potentially infective to others. These individuals pose a huge risk as they are likely to continue to conduct their normal activities whilst unknowingly infecting others. A face mask will help reduce the spread of infection in the community by minimizing the shedding of respiratory droplets from infected persons who may not even know they are infected and before they become symptomatic.
The Malawi Government has budgeted funds for the procurement of masks and allocated these funds through the councils, hence request for quotations from interested eligible bidders to submit their quotes.
Lilongwe City Council now invites bids in sealed envelopes from eligible bidders for the Supply and Delivery of Cloth Masks
Bidding will be conducted through Request for Quotation procedures and in full compliance with the provisions of Malawi's Public Procurement and Disposal of Public Assets Act No. 27 of 2017 and its Subsidiary Legislations. Bidding is open to all bidders as defined in the Request for Quotation (RFQ) Document.
Interested eligible bidders may obtain further information from the Procurement Unit, Lilongwe City Council, Civic Offices, off Robert Mugabe Crescent, City Centre and inspect the RFQ documents at the address given below (6a) from 7:30 hours to 12:00 hours and from 14:00 hours to 16:00 hours during working days.
A complete set of RFQ Document in English may be obtained by interested bidders from the address below (6 a).
Bids must be delivered to the address below (6 b) on or before 11th February, 2021 before 16:30 hours. Late bids shall be rejected.
6 (a) Address for Information, inspection, clarification and collection
The Lilongwe City Council, Civic Offices, (Room 308)
Off Robert Mugabe Crescent, City Centre
Centre, P.O. Box 30396, Lilongwe 3
Telephone: + Tel : (265) 01 773 144/01775 257 (Dir)
Fax : (265) 01 770 885
E-mail: andrew.ngalande@gmail.com
(b) Address for Submission:
The Chairperson,
Internal Procurement and Disposal of Assets Committee
Robert Mugabe Street, Civic Offices, City Centre,
P.O. Box 30396, Lilongwe
Request for Quotations should be deposited in the Tender Box placed at the Civic Offices Reception